Rana Plaza Factory Workers: BGMEA yet to make list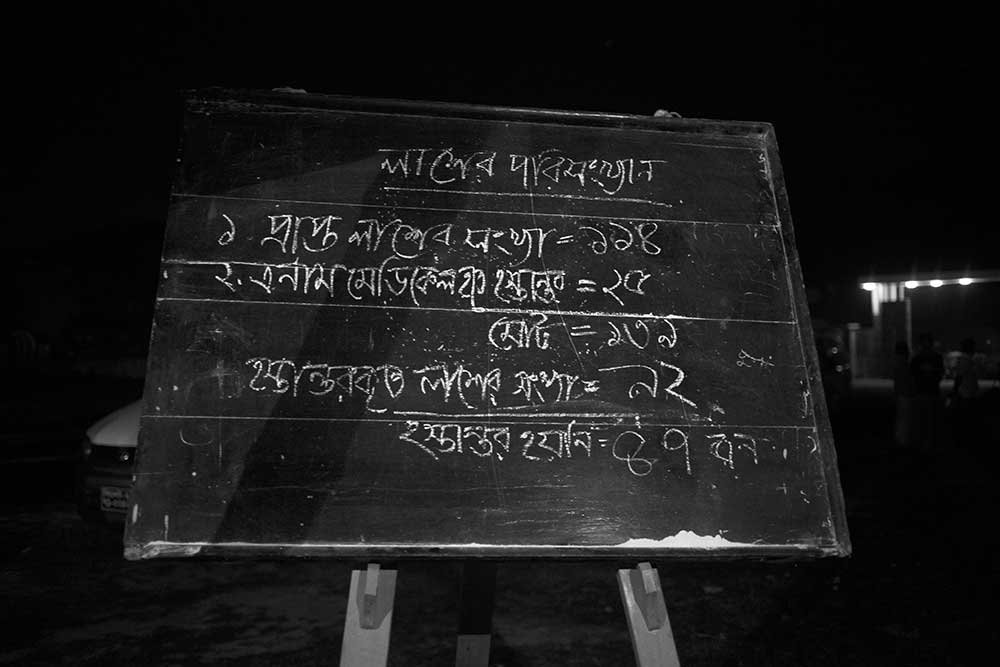 © Taslima Akhter
×
---
By Sushmita S Preetha and Akram Hosen
14th May 2013
Twenty days into the biggest industrial disaster in the country that has put an end to the lives of at least 1,127 garment workers (the death toll may still rise), the role of the BGMEA in addressing the plight of the affected workers remains in question.

Despite repeated appeals from the rescuers, journalists and rights groups, the apex apparel body has not yet published a full list of workers employed at the five factories housed at Rana Plaza.

It has not even announced what compensation, if any, will be given to the victims' families and survivors of the nine-storey building in Savar that collapsed on April 24.

In the absence of an official notification, workers and victims' families remain uncertain about the future. It is more so for those who can no longer work because of grievous injuries and those who have lost their sole breadwinners.

Meanwhile, BGMEA President Atiqul Islam on Wednesday said the workers who survived the Savar tragedy without a "major" injury would not get any compensation or extra benefits.

But aggrieved workers, a majority of whom are injured in one way or the other, demand at least three months' salary in severance benefits.

However, the trade body has been paying just one extra month's basic salary to the workers employed there for less than one year.

"We're forced to enter the death trap and we risked our lives by doing so.
Many of us lost our limbs, others lost all but their minds," said Nargis Akhter, who received injuries in her head and legs. "What they're offering us is just nothing."

BGMEA representatives overseeing the salary disbursement told workers that they would get severance pay for 30 days' basic salary for each completed year of service, one month's gratuity and wages equivalent to their earned leave, as per labour law.

But those working for less than a year were first offered only the running month's (April) salary, which the workers refused to take. The BGMEA then agreed to give another month's basic pay, and 60 hours' overtime – an offer that failed to satisfy many workers.

"I got just Tk 8,500, all inclusive. My family has already incurred expenses when they came from the village to look for me," said Amina, who survived the collapse with minor injuries.
"I worked 120 hours in overtime, and they expect me to leave with payment for only 60 hours?" asked an outraged Mintu. "How is this justice?"

Many workers alleged the payment process lacked transparency and caused inexplicable harassment to the surviving workers and their families. Some of them had left the hospital and the Adharchandra High School ground, where the retrieved bodies were kept, to receive their salaries on May 7.

"I've exhausted my savings by running from one place to another in search of my wife [Momtaz]. If I could at least get her salary, I could stay here till her body is found," said Abul Kalam, a construction worker. But Abul had to return home empty-handed after waiting for nine hours, after he was told only workers who survived would be paid.

Families that lost a member or had missing relatives were informed that the BGMEA would pay them "soon". The BGMEA has offered nothing short of a farce over the list of workers at Rana Plaza. Soon after the collapse, BGMEA officials, at a press conference, had said the total number of workers was 3,122. Even when it was evident that the rescue operation would be easier if the rescuers had an estimate of workers employed there, the BGMEA did not publish the list or hand it over to the rescuers. On May 5, when the number of people rescued dead and alive reached 3,066, Atiqul Islam told The Daily Star that the list they were referring to was not an updated one.

The next day, BGMEA Joint Secretary (labour) Rafiqul Islam said they had found the March salary sheets of the five factories, but claimed he had no idea of how many workers were on the list. Asked why the BGMEA had not announced the list of the March salary sheets earlier, Atiqul Islam told this paper on May 8: "We just found the March salary sheets."

On May 7, the BGMEA finally announced a list of 3,619 workers.
However, as rescuers keep retrieving more bodies from the rubble, Rafiqul Islam has now reverted to his previous claim that he was still working on the list of missing workers.

Sushmita Preetha & Akram Hossain Journalist, Daily Star. 14th May 2013, The daily Star sspreetha@gmail.comakramhosen31@gmail.com
Back