On a Performing Art:Thoughts on Rana Plaza project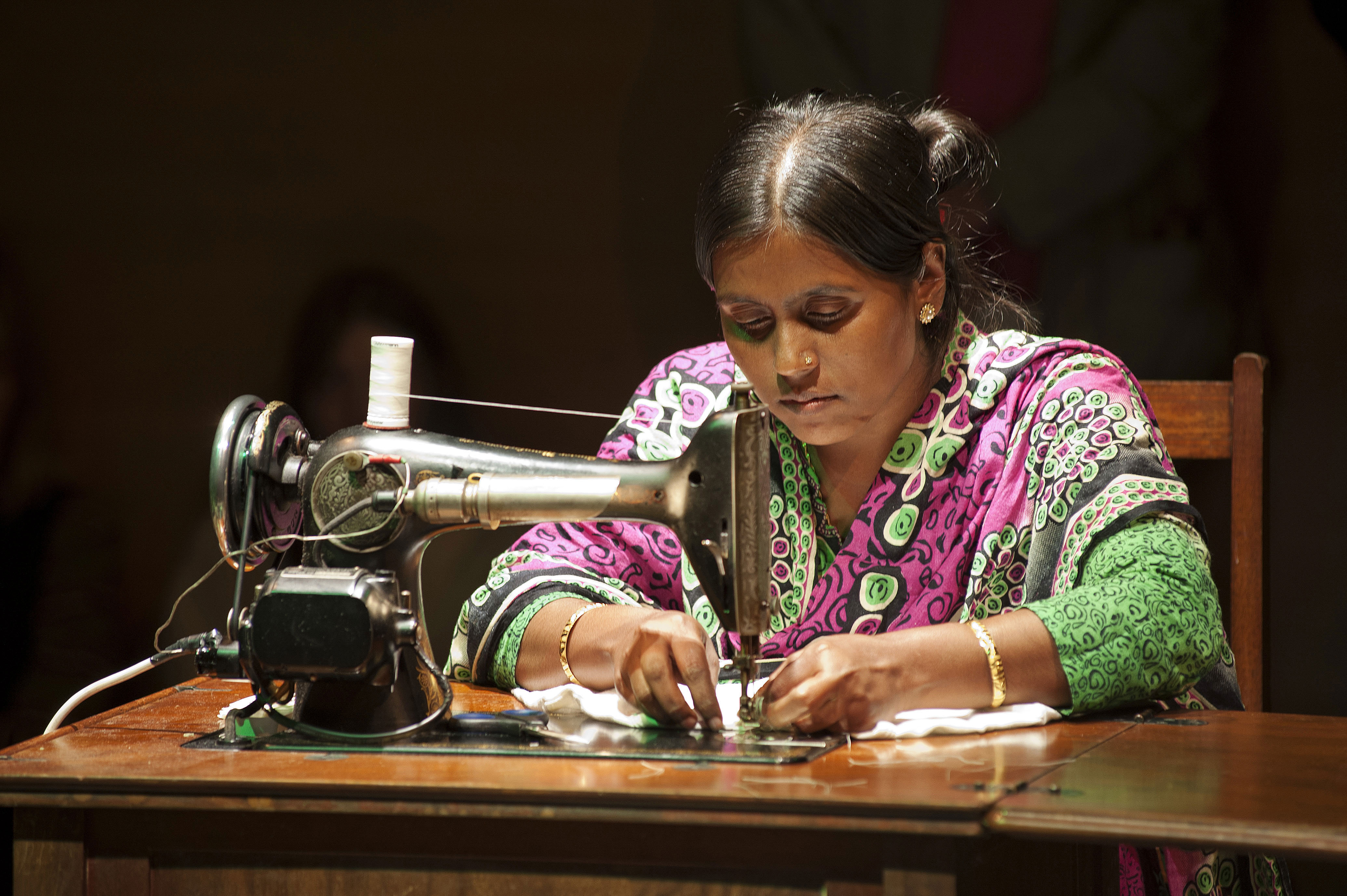 ×
By Carla Novi
---
"Did you hear about what happened in Bangladesh?" a friend of mine asked me on the morning of 24th of April, 2013. "A big building collapsed. I think it was a garment factory in Dhaka. Were you not there recently?" Before I could answer the question, I ran to turn the TV on and checked the news. It was real: the worst industrial disaster in history. I was in a complete state of shock.

Two months before the collapse, I was invited to take part in Britto International Artists Workshop that took place in Dhaka, Bangladesh. As part of my project, I visited a garment factory in Savar to interview women workers. I recorded a series of songs and interviews that were later amplified during a performance that I presented in collaboration with artist Alejandra Gutierrez at Shilpakala Academy, at the end of Britto's Workshop. The garment factory that I visited was Rana Plaza. Little did I know that two months after my visit, the fifteen voices that I recorded would be buried under the factory's rubble.

A year after the collapse, I decided to go back to Bangladesh. I had to see how it was possible for someone to decide to build an eight-story factory, when the authorities had only approved to build a 5-story building for shops and offices, as planned by the architect; I had to see how it was possible for people to walk into their own death for only £24 per month; I had to see how it was possible for someone, in spite of all the warnings, to decide to destroy so many lives and dreams in a matter of seconds; I had to see that it was all real.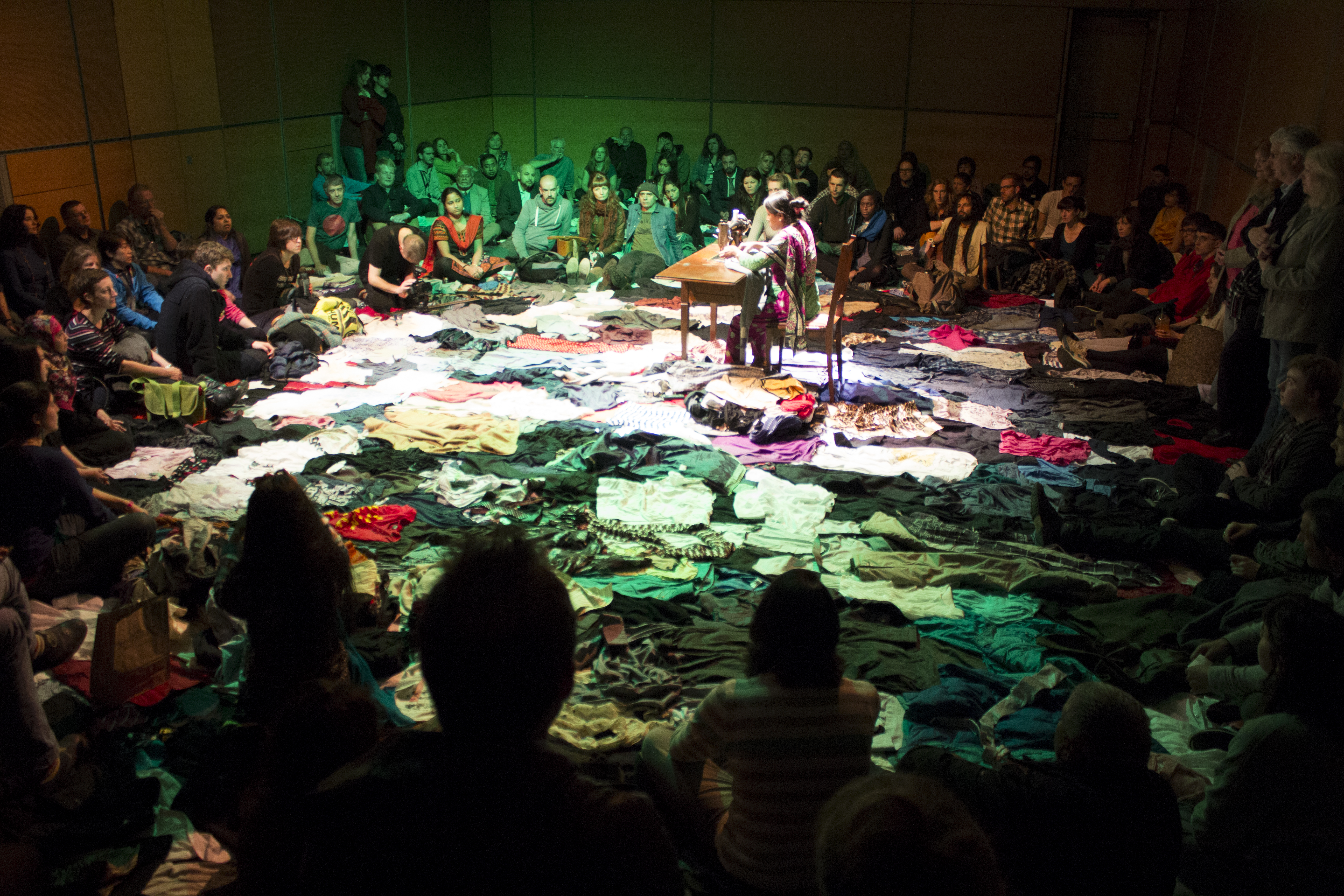 I returned to Bangladesh to try to find out what happened to the fifteen women that I met in my previous visit. Ever since the collapse happened, I had the idea to bring one of the Rana Plaza survivors to Scotland, so that she could tell her story. It was important for me to find a voice that I could bring to the UK, a voice who could make that human connection that we lack so much in Western countries. When Rana Plaza collapsed, although the news travelled the world, people didn't seem to engage with the magnitude of the tragedy. To most Westerners, this was just another news' item, a horrible thing, nevertheless, that happened in a far away place that seemed to have no connections to the West at all. It wasn't long till more news overlapped on top of this one, making it a distant memory in Westerner's minds. It was important for me to remind people in the UK of the tragedy, to generate awareness and invite people to take social responsibility in a global problem that we are all part of. My idea of bringing a Rana Plaza survivor to the UK was to create a connection between workers and consumers, between commodities and social injustices, between a real person and another real person…to create a connection, not through the media or oversaturated images, but directly through humans.
And so, my search began. I contacted as many people as I could in Dhaka to ask if anyone recognized any of the fifteen women that I met in my previous visit. I asked people who were involved with the rescue process of Rana Plaza, I asked doctors who worked at clinics where the survivors were taken, I asked activists and work union leaders who worked with garment workers…eventually, someone recognized one of the women from my photos, and that is how, against all the odds, I managed to reconnect with Dilora Begum.
I met Dilora two months before Rana Plaza collapsed. Despite the harsh working conditions, I always remember her with a smile on her face. When I found out that she survived the collapse, I went to visit her to her house at Savar. I asked her if she would be interested in coming with me to Glasgow in Scotland to tell her story. Without any doubt or hesitation in her voice, she agreed.
One individual cannot change the world; but one individual can change a collective to prompt change in the world. I thought that if I could amplify one voice in a country where the voices of garment workers are muted and westerners choose to consume products coated by odourless sweat and colourless blood; if one voice could tell her story in one of the countries actively engaged in 21st century slavery under the guise of supporting social economical development; if only that voice could be heard by those who can't hear beyond the borders of their comfortable lives…then, maybe then, we can experience social change.

Dilora had never been on a plane before; she can't speak English, can't read or write…in fact she had never been out of Bangladesh before. The moment she agreed to come with me to Scotland, she agreed to do the whole journey alone. It wasn't easy: getting a passport, getting a visa, getting her family to trust me, getting an arts institution in the UK to support the project, getting funding…getting people to believe in my mad idea of bringing a survivor of Rana Plaza to the UK to tell her story in the form of an art performance. After a few months of lots of tension and constant negotiation, Dilora got on a plane and flew from Bangladesh to the UK.
On the 11th of October 2014, I screened my documentary film, "Rana Plaza", at the CCA, Glasgow, as part of Document (Human Rights Documentary Film Festival). The film follows my personal journey, from my first visit to Dhaka, before the factory collapsed, to my return a year after, where I witnessed the aftermath of the tragedy. In the film, I deal with my own pain and loss, as I embark on a mission to try to find the fifteen garment workers that I met in Rana Plaza two months before the catastrophe.
The day after we screened the film, we presented the performance where Dilora took part. As the audience entered a room, stepping on carefully layered garments that completely covered the floor, Dilora sat in the middle of the space quietly sewing labels using an old Singer machine. As the audience gathered around Dilora, two Bangladeshi women resembling garment workers walked around the audience, handing out brown paper shopping bags to the public. The bags had a "RANA PLAZA" logo printed in the style of a high street brand; underneath the logo, there was a small text that said: "You are standing in a room with 1134 garments. This is the number of people that died in Rana Plaza". Inside each bag was a garment with a label sewn by Dilora.
After about 5 minutes of sewing in silence, Dilora started telling her story. She began talking about why she had to start working in a garment factory and the difficulties of surviving poverty as a woman in Bangladesh. As the story progressed, Dilora described in detail the day that Rana Plaza collapsed; like thousands of others, she was trapped under the rubble, but was lucky enough to get rescued after a few hours. Nightmares about what she saw in Rana Plaza still hunt her. Dilora's voice started breaking as she talked about how a woman, trapped under a pillar, asked for an axe and cut her own arm in order to survive. This was just one of the hundreds of horror stories that Dilora could have kept on telling the audience. After taking a deep breath she talked about the problem of how her injuries, her trauma and the new unattainable targets from garment factories, make it impossible for her to work again. The future is frightening; Dilora doesn't know how she'll manage to survive and provide for her two children. She's worried about them having access to a good education, and the idea of them ending up working at a garment factory terrifies her.
The audience was captivated by Dilora's voice and her story. Some of them shed tears; others were completely paralyzed as they listened to her words. When she finished talking, there was a deafening silence in the room. Nobody moved, as if people were still trying to convince themselves that what they heard was real. Perhaps it was the first time for people in that room to realize that behind every Rana Plaza victim (dead or alive), behind every garment worker in Bangladesh, or in other developing countries in the world, is a real person with a real life and a real story to tell.
Something changed in that room. People left without being the same. They, like me, will now carry the voices from Rana Plaza close to their hearts.